Camera to Cloud: Why Video Professionals Are Adopting it
Adobe Camera to Cloud (C2C), powered by Frame.io significantly speeds up the content creation process by reducing the time it takes to get from acquisition to post-production. There is no waiting for hard drives to be shipped or files to be copied from one device to another; proxy files are uploaded directly to the cloud from the camera, so that editors and remote stakeholders such as producers, directors, and even clients, can start working on the material immediately. What is driving the fast adoption of C2C on the acquisition side is the introduction of network-connected, in-the-field devices, such as the Atomos CONNECT range of products, introduced at NAB 2022. These new direct-to-cloud devices attach to any camera and simultaneously capture two versions of the footage: a high-quality Apple ProRes or Avid DNx hero file and a lightweight H265 HEVC 2K or 1080 proxy file that gets instantly uploaded to Frame.io. The two file versions share the same file name and timecode reference, thus enabling auto-conforming with any popular NLE, including Adobe Premiere Pro, Apple Final Cut Pro, DaVinci Resolve, and Avid Media Composer, for a high-resolution finished project. Proxy file sizes are much smaller than the original hero files, so they will load faster, use less processing power, and, most importantly, be much quicker to upload to the cloud using the public internet. For many social media platforms, and indeed for breaking news on conventional broadcasting services, proxy video quality is perfectly usable. For example, an HDp30 H.265 proxy file recorded at 10 Mbps is more than acceptable for use cases such as brand content marketing, events, or influencer content.
Putting Camera to Cloud to work to spread video faster and further
Recently, at fashion designer Ralph Lauren's 2023 debut show in Southern California, they deployed a C2C collaborative workflow with Frame.io whereby editors in Los Angeles and New York were able to work collaboratively on the media as soon as it was uploaded, to create reels for Instagram. The production used nine Atomos Shogun CONNECT devices; eight were connected to the SDI outputs of eight Sony Venice cameras, with an additional unit used to record the Director's line cut. Although the devices recorded high-resolution footage for later use, the entire show was edited and posted online using the HD H.265 proxy files that were uploaded directly to the cloud.
"The CONNECT line closes the gap between production and post, realizing huge time efficiencies by recording directly to the cloud or streaming live. This project is a perfect example of how high-quality content can be quickly and efficiently produced and shared, thanks to Shogun CONNECT," said Paul Scurrell, Senior VP of Product Development, Atomos.
Innovation ensures security, increases camera options, and uses anywhere connectivity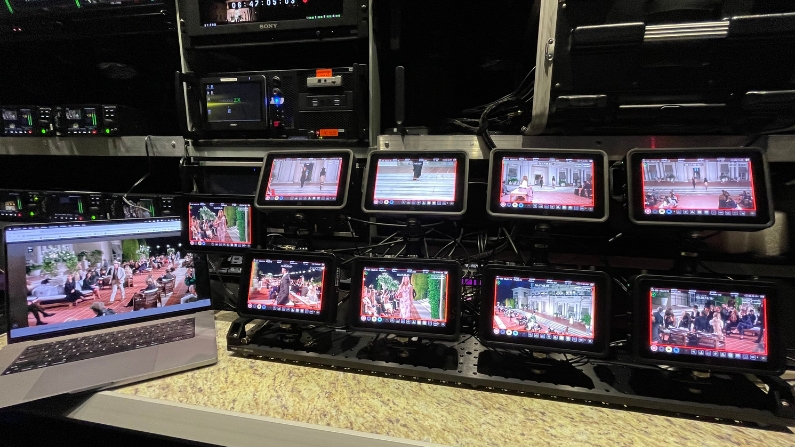 A unique benefit of the Atomos workflow is triple redundancy. The footage is simultaneously stored on the camera, on the Atomos device, and in the cloud – more than addressing any fears that customers might have regarding the security of their valuable content. In addition, the Atomos approach brings an affordable Camera to Cloud workflow to a much wider range of digital cinema, DSLR, and mirrorless cameras than was previously possible. Atomos has developed a new progressive file transfer technology so that the upload of the proxy file starts as soon as the camera starts recording, and the only requirement is an internet connection over common 4G LTE, 5G, Wi-Fi, or wired networks. If during the upload process, the connection is lost, the file upload starts again as soon as the connection is restored, ensuring that no data is lost. Internet access speed is now the only bottleneck but with advances in network technology rapidly leading to a world where every corner of the planet will have internet access, in the not-so-far-off future full resolution C2C will be available to any creator, anywhere in the world. Post first published on Camera Crew News
Camera to Cloud: Why Video Professionals Are Adopting it – Camera Crew News