Two models of The Wall is now available in Europe, expanding Samsung's leadership in the virtual production XR studio fields
September 15, 2023: Samsung Electronics today announced its ongoing commitment to the future of virtual production with its newest digital signage series. The Wall for Virtual Production (model name: IVC) is now available in Europe and will be on display at IBC 2023, taking place in Amsterdam, the Netherlands from September 15 to 18. This extension builds on its North American release announced at InfoComm 2023.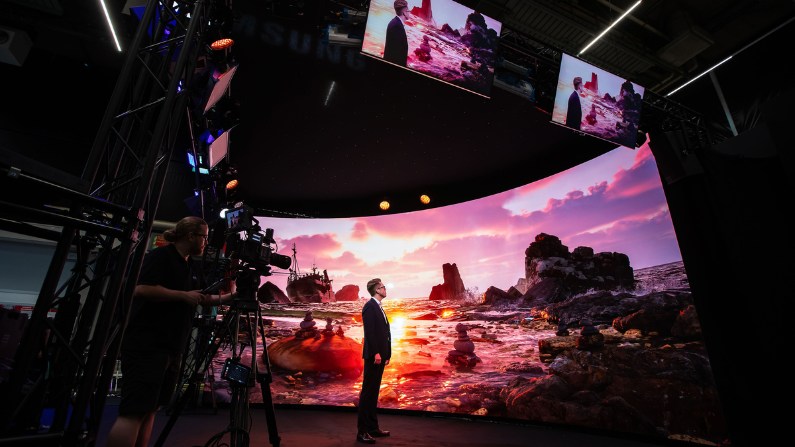 "The Wall for Virtual Production opens the door to limitless potential for filmmakers, producers and studios by amplifying digital effects, while making virtual content creation easier, faster and more cost effective," said Hoon Chung, Executive Vice President of the Visual Display Business at Samsung Electronics. "Each feature has been handpicked to empower businesses across industries as they embark on their virtual content creation journey with an unprecedented level of quality."
Samsung's leading visual display technology delivers powerful production capabilities that extend reality. Production studios can use ultra-large LED walls to create virtual content, integrating them with real-time visual effects technology to reduce the time and cost of content production. The Wall for Virtual Production is a leader in this type of application and can amplify projects by adding lifelike levels of detail, texture, volume, and shades to virtual content creation environments. The new IVC model options, P1.68 and P2.1, include a curvature range that can stretch up to 5,800R, which creates a more realistic field of view. The display also packs an updated genlock feature that keeps The Wall in line with the system's signals, so there aren't any dropped or doubled frames. This capability — along with the enhanced phase offset feature that adjusts the time delay between camera and screen — ensures a perfect image.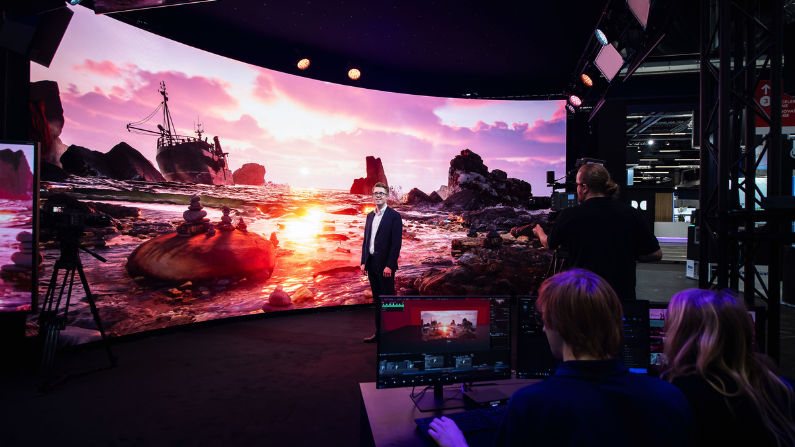 To display colors as accurately and consistently as possible, The Wall for Virtual Production features 3D lookup tables (LUTs) for color correction, wide-gamut HDR color processing and color adjustment between individual cabinets or modules. Meanwhile, the integrated Virtual Production Management (VPM) software and its intuitive interface make it easy and more efficient to manage the screen and facilitate the highest possible picture quality in a virtual production environment. The VPM is also capable of detecting and resolving any potential LED-related issues.
In addition, The Wall for Virtual Production is built for any studio environment, no matter how large the building demand is. Whether for a volume studio or XR studio, The Wall for Virtual Production makes the production of immersive content possible.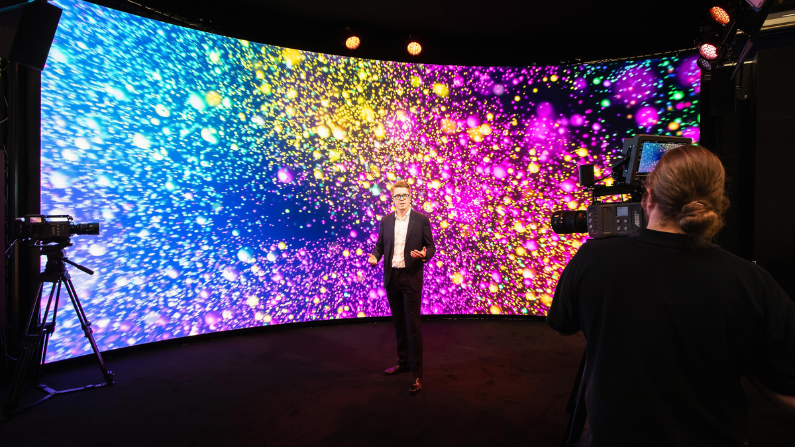 "We're thrilled to be supporting Samsung with the exciting launch of The Wall for Virtual Production IVC Series at this year's IBC. With our heritage in creating cutting-edge virtual production and XR broadcast studios, we're excited about the powerful new tools the IVC Series brings," said Andy Hook, Technical Solutions Director at White Light. "These tools give us a huge scope for creating even more impactful and flexible virtual production environments and continuing to drive progress and transformation in this space."
The Wall for Virtual Production features top-of-the-line capabilities, including:
 ·       An improved 4:9 ratio that provides a variety of installation options, including the ability to be hung or stacked with other screens to maximize results in different production environments.
·        A 12,288 Hz refresh rate that minimizes flicker lines and ensures a clear outcome, regardless of the camera used during filming.
·        Black Seal Technology+ that delivers the purest black levels for new depth. Users will experience unparalleled contrast that is specifically designed to be resilient to the dust and particles common in production environments.
·        20-bit processing to present exact color mapping with faultless accuracy and a precise linear grayscale that shows the intricacies of every scene. Users will be able to see realistic textures, volume and continuous shadow details.
The Wall for Virtual Production's P1.68 and P2.1 models are now available globally including Europe.